Product Highlights
---
Touchstone Mobile (Android) For RF Explorer
Touchstone Mobile for Android devices is the first (and only) mobile application for RF Explorer handheld spectrum analyzers.

Like Touchstone and Touchstone-Pro, the Touchstone Mobile app turns data collected from RF Explorer spectrum analyzers into highly graphical charts and displays, enabling users to more readily visualize the RF environment, monitor RF signals, troubleshoot RF issues, and detect sources of RF interference.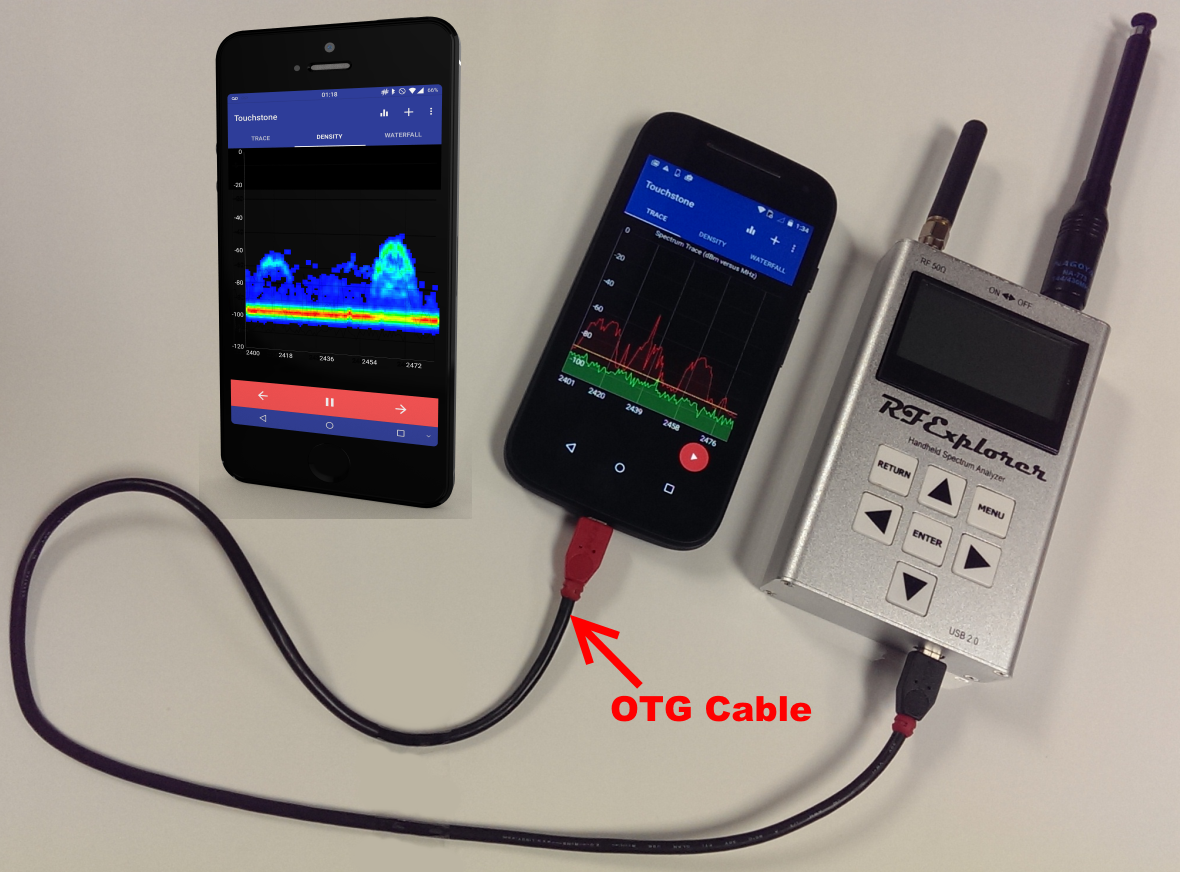 Read More

---
RF Explorer — Handheld/Portable RF Spectrum Analyzer
RF Explorer is the latest breakthrough device in low-cost, RF spectrum analysis

RF Explorer operates both as a standalone, handheld RF spectrum analyzer and also interfaces with a PC running more sophisticated data analysis software. There are several models in the RF Explorer series of RF spectrum analyzers that span different frequency ranges — from 15 MHz up to 6100 MHz. Don't let the price fool you — the performance of these small, affordable devices compares favorably to more expensive and bulky test equipment. Prices begin at $119 USD.

The new 6 GHz RF Explorer models are now available — check them out here.. They cover both the 2.4x and 5.x GHz ISM bands and are the perfect diagnostic tool for monitoring and troubleshooting Wi-Fi networks.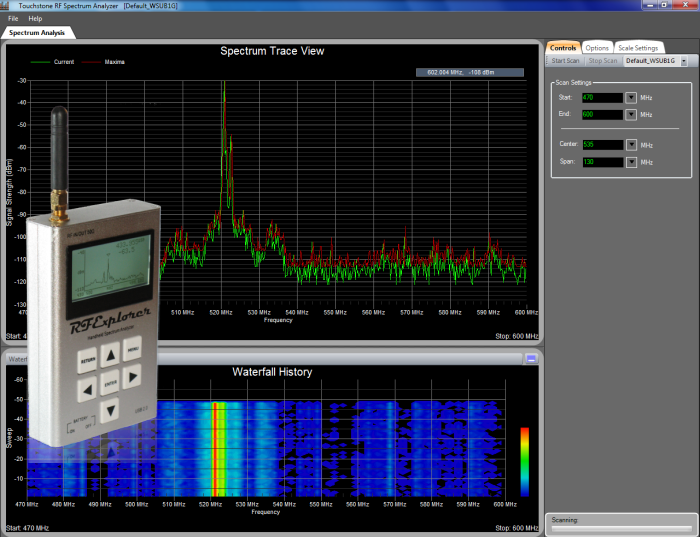 Commitment to quality and low-cost are unmatched
RF Explorer was developed by Arocholl and is distributed by Nuts About Nets. Nuts About Nets also supports RF Explorer by developing PC-based software to enhance the functionality of the device.
RF Explorer is a remarkable diagnostic tool that both professionals and amateurs are bound to love. The combination of standalone, handheld operation and PC-based, data acquisition and analysis are unique in the market place. Arocholl's commitment to quality and low-cost are unmatched — you'll wonder how you ever got along without this device.
Affordable
Several models to choose from that differ in the frequency range they support. Prices start at $119 USD.
Portable
Light-weight and small in size, can operate as a stand-alone, handheld device. Internal, rechargeable battery provides up to 16 hrs+ of continuous run. LCD display of 128×64 pixels offers great visibility outdoors.
Data Interface (USB)
Using USB cable can connect to Windows PC running more sophisticated data acquisition and analysis software.
Performance
Comparable to RF spectrum analyzers that cost many times more. Excellent dynamic range, sensitivity, and resolution bandwidth.
---
RF Explorer RackPRO
Rack-Mounted RF Spectrum Analyzer Plus Clear Waves Software

The RF Explorer RackPRO™ is a spectrum analyzer and frequency coordination platform for A/V professionals using wireless audio equipment. One RF Explorer RackPRO system includes both a physical 19" rack mounted unit, and a copy of Clear Waves frequency coordination software for Windows, or optionally a copy of RF Venue's own Mac OSX frequency coordination software. The cost of RF Explorer RackPRO bundled with Clear Waves software is only $849 USD.



.
The RF Explorer® RackPRO™ is a hardware and software spectrum analysis platform designed to manage and monitor any wireless audio system from a laptop or equipment rack. Powerful frequency coordination and live interference monitoring is now easy to master and within budget for venues large and small. While most spectrum analyzers offer laboratory precision across wide frequency ranges, the RackPRO is designed with essential features that operate only in the range required for wireless mics and IEMs.