RF Explorer Handheld, RF Signal Generator (RFE6GEN)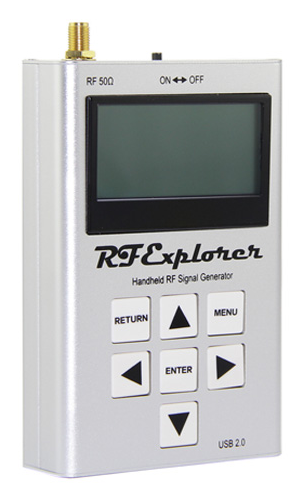 The RF Explorer Signal Generator (RFE6Gen) is a powerful, wideband, fully programmable RF signal generator. It is the perfect companion for the RF Explorer Spectrum Analyzer product line.
As a standalone unit, the RFE6Gen can generate CW (continuous wave) and sweep signals by selecting the desired menu options. When connected to a PC, it can be fully programmed with the RF Explorer for Windows software tool. Furthermore, the unit can work as a powerful tracking generator when used with an RF Explorer spectrum analyzer connected to the same PC. This combination offers full SNA (scalar network analyzer) capabilities — which allows characterization of filters, amplifiers and any 2-port RF device.
At a cost of only $189 USD the RFE6Gen easily becomes one of the more valuable instruments in your tool box.

Features:
Pocket size and light weight.
Solid aluminum metal case.
Lifetime free firmware upgrades available, open to community requested features.
High capacity Lithium-ion polymer internal battery for 16hs+ of continuous run, rechargeable by USB.
Can interface to Windows PC running the RF Explorer for Windows software tool.
Can be extended with internal expansion modules — which allows for future band support and functionality.
Wide band support — from 24 – 6000 MHz

Specifications:
Frequency range supported: 24 to 6000 MHz
Frequency step/resolution: 1KHz
Frequency stability: 0.5 ppm
Temperature compensated: 0 – 45C
Backlight for great indoor visibility
Standard SMA 50 OHM connector
Programmable Amplitude with included internal programmable attenuator:

-40 dBm to -30 dBm in 3 dB steps
-10 dBm to 0 dBm in 3 dB steps

Amplitude accuracy: +-0.5 dB (normalized) or +-3 dB (absolute)
Switch measurement point speed < 10 ms
Graphics LCD: 128×64 pixels for great visibility outdoors
PC Windows software supports Windows XP/Vista/Win7 — both 32 and 64-bit
Functional Modes:

CW signal generator at any frequency in the supported range
Tracking generator functionality — when combined with an RF Explorer spectrum analyzer connected to the same PC
Sweep generator between any, two frequencies within the supported range — includes selectable step-size and sweep speed

Expansion port for future enhancements (e.g. higher output power modes, additional frequency bands)
Size: 113 x 70 x 25 mm