Troubleshoot Silicon Labs Driver For RF Explorer on Windows PC
When you run the installation program for the software application then the Silicon Labs driver for the COM port will be installed. To verify the driver is properly installed, launch Device Manager and check under the category 'Ports (COM & LPT)'. You should see an entry that looks something like the one below: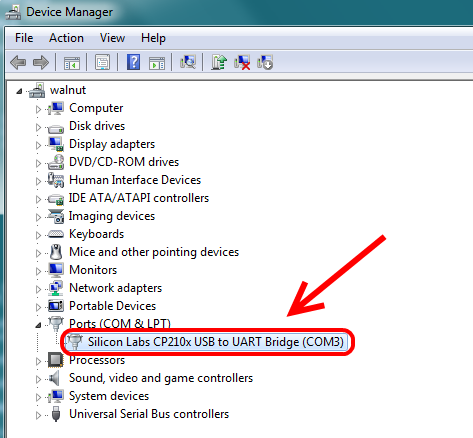 The first time the software application launches it checks for the presence of the RF Explorer device. If the application detects the device then it prompts for the corresponding software license key. If the application does not detect the device then it runs in demo mode. If the Silicon Labs software driver is not properly installed then the application will not detect the RF Explorer device.
If the Silicon Labs software driver appears to be properly installed yet the application still does not detect the RF Explorer device then there are 3 additional settings you should check on the RF Explorer device. These settings affect the communication between the RF Explorer device and the application software running on the Windows PC.
1. Make sure the RF Explorer is actively scanning — that is, you did NOT press the 'Menu' button and are NOT navigating the built-in menus via the LCD screen.
2. The USB Baud rate is set to 500 Kbps (and NOT 2.4 Kbps).
3. If your RF Explorer device supports a 'WiFi Analyzer' mode then make sure it is not currently using that mode.